Dear friends
The links to our worship this week are below.
Best wishes
Anne Le Bas
SUNDAY WORSHIP June 28
The Feast of St Peter & St Paul
Morning Worship Podcast
Morning Worship Service sheet
Morning hymn words
Evensong Podcast
Evensong Service sheet
Evensong hymn Words
Seal Church Zoom meetings this week: email sealpandp@gmail.com for links

Zoffee – Sunday chat at 11 am
Wednesday Zoom Church – Wed at 11 am Twenty minutes of informal worship with our friends at Lavender Fields. Everyone is welcome.
email
sealpandp@gmail.com
for the link.

Zoom Children's Choir -
Wed at 5pm
AND
Thurs at 4pm
please contact
sealpandp@gmail.com
for the link. Any children are welcome for 30 minutes of fun songs.

Zoom Adult Choir – Cancelled this week. Apologies - we'll be back next week

Zoom home groups and Friday Group – email
sealpandp@gmail.com
for the links.
The Feast of St Peter and St Paul: Our Patronal Festival
Back in early March, before we were so rudely interrupted by coronavirus, we were in the middle of a Lent course exploring the stories of our Patron Saints, Peter and Paul. Remember the days when we could do that sort of thing? Unfortunately we only got halfway through before the pandemic called time on it, but you can find
the daily posts about their lives
in here, and a
short summary
which I put together for Messy Church here. The course was prompted partly by the time I spent last year on Sabbatical exploring the way communities celebrated their local saints. Philip and I were lucky enough to be able to visit Sardinia and Sicily, and be part of the grand procession to mark the feast of Sardinia's patron saint, Efisio, an early 4
th
Century Roman soldier martyred by his Roman bosses when he became a Christian and refused to take part in the persecution of fellow Christians. It was an extraordinary experience. Cagliari's streets were thronged with people watching the procession – hours long – of Sardinians from villages and towns all over the island dressed in the local costumes specific to their region, praying the rosary in Sardu. At the end of the procession, greeted with huge excitement and quite a bit of reverence, came the statue of St Efisio, in a gilded wagon, drawn by oxen with decorated horns. It was quite an experience, and though it was by far the largest, it wasn't unusual. Churches around Sardinia and Sicily all seemed to have similar festivities, many around that time, and each church was immensely proud of their saint. Whole communities turned out, whether they were regular churchgoers or not, to be part of the celebration.
Here in Seal, as in most Church of England churches, Patronal Festivals tend to be rather more sedate affairs. The Reformation is largely to blame, when devotion to the saints was discouraged, statues and paintings demolished or defaced, and many church dedications forgotten. There were valid reasons to criticise some of the behaviour which had sprung up around the shrines of the saints, but, as with so many reforming movements, it was easy to throw out the baby with the bathwater. The kind of rituals which we saw in Sardinia and Sicily often bound communities together, and helped people deepen and sustain their faith in very tangible ways. Those Sardinians we saw praying their rosaries were not play acting. For many of them it was clearly a very genuine act of worship. The commitment that Efisio had shown to them, in being martyred to protect them, clearly still moved them, seventeen centuries later.
At its best, the act of remembering the saints draws us deeper into the love of God, reminding us that we are part of a community which is not limited by time and space. In the Creed, we say that we believe in "the communion of saints"; we don't walk the way of faith alone, but in company with many others, living and departed. Christianity is not a solitary faith, even when we can't gather together physically. God intended us to learn from each other and with each other, in all our rich diversity, whether that is through sharing in an act of worship – even if it is only online – by encouraging each other in small group meetings, and by making links with those who follow Christ across the world. The community of God isn't limited by place, but nor is it limited by time. We also learn from and walk with those who have gone before us, people like Peter and Paul, who faced challenges, made mistakes, changed their minds but in and through it all bore witness to God's love.
All Age Ideas and Resources

Roots at home https://www.rootsontheweb.com/i-am-looking-for/public-copies/worshipathome28jun

St Peter's symbol is a pair of keys, because Jesus said that he was giving him the "keys of the kingdom of heaven". He would help open the way for other people to come closer to God. Find some old keys and see what you can make from them. You could make some playdough and press the keys into it to make patterns, or make some windchimes or a mobile from them.

St Paul's symbol is a sword, or sometimes a book. The sword refers to the way he died, or perhaps to the fact that he wrote about "the sword of the Spirit, which is the word of God" (Ephesians 6.17). The book refers to the letters he wrote to the churches he founded, some of which are in the Bible. Perhaps you could write some letters this week to encourage someone else.

You can find the story of Peter and Paul, here, with pictures to colour.
Rembrandt : St Paul in Prison 1627
Antonio de Bellis, The Liberation of St. Peter,
This dramatic painting captures the moment when Peter is woken out of sleep by an angel in his prison cell. He can't believe his eyes, but the angel pulls at his clothing, almost as if he will drag Peter out to freedom.
If you'd like to hear an introduction to the writings of St Paul, I can recommend this short talk by Paula Gooder
Prayer of the week
A prayer of St Paul
Throughout Paul's letters he tells us that he is praying for those who will receive them. His ministry was undergirded with prayer. This prayer, from Philippians 1.9-11 is typical. Though he can't be with those he is praying for, he knows they are held in the hands of God.
"And this is my prayer, that your love may overflow more and more with knowledge and full insight to help you to determine what is best, so that on the day of Christ you may be pure and blameless, having produced the harvest of righteousness that comes through Jesus Christ for the glory and praise of God."
Who prays for you? What do you hope they pray for?
HYMN OF THE WEEK
And can it be

Charles Wesley's (1707-1788) great hymn was one of his earliest, and may have been written within hours of the time on May 21 1738 when he first really felt that his religious faith had come alive. His older brother John, followed suit a few days later, on the famous occasion when, while worshipping, he felt his heart "strangely warmed". Together they went on to form the movement which eventually became the Methodist Church. Charles was the 18th child of Samuel and Susanna Wesley, and their youngest son. They had 19 children in all, though, to be fair, this was a small family compared to Susanna's. She was the twenty-fifth child of her parents! Growing up as one of such a large brood seems to have energised Charles, though. This is just one of an estimated 6500 hymns he wrote, many of which are still sung – there are 21 in the hymn book we use at Seal, far more than any other author. He also gave us "Love Divine all loves excelling", and "Hark the herald angels sing".

1 And can it be that I should gain
An int'rest in the Savior's blood?
Died He for me, who caused His pain?
For me, who Him to death pursued?
Amazing love! how can it be
That Thou, my God, should die for me?

2 'Tis mystery all! Th'Immortal dies!
Who can explore His strange design?
In vain the firstborn seraph tries
To sound the depths of love divine!
'Tis mercy all! let earth adore,
Let angel minds inquire no more.

3 He left His Father's throne above,
So free, so infinite His grace;
Emptied Himself of all but love,
And bled for Adam's helpless race;
'Tis mercy all, immense and free;
For, O my God, it found out me.

4 Long my imprisoned spirit lay
Fast bound in sin and nature's night;
Thine eye diffused a quick'ning ray,
I woke, the dungeon flamed with light;
My chains fell off, my heart was free;
I rose, went forth and followed Thee.

5 No condemnation now I dread;
Jesus, and all in Him is mine!
Alive in Him, my living Head,
And clothed in righteousness divine,
Bold I approach th'eternal throne,
And claim the crown, through Christ my own.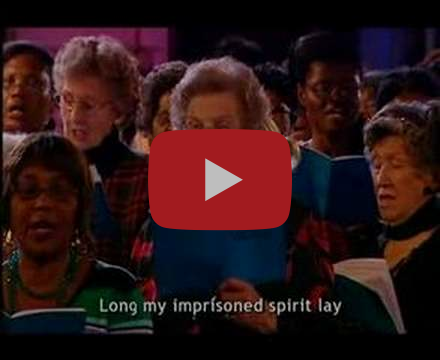 Restarting public worship in the church building
We are hoping to be able to start some sort of public worship in the church building again next Sunday, but we haven't yet received the details of the government guidance which will enable us to decide whether this is practical.
I will send an email as soon as we are able to make this decision.
From the information we have received, however, we are assuming that
We will have to maintain social distancing, which will put a limit of around 35 on the numbers who can come
We won't be able to sing
The congregation may need to wear face coverings
We may need to collect names and contact details of those who attend, in case there is an outbreak of Covid 19 linked to the church, so that people can be contacted by the track and trace sheme.
We won't be able to have refreshments or socialise after church.
Anyone who is especially vulnerable will be encouraged not to come.
My proposal is that I will essentially do the same sort of service as the weekly morning podcast (maybe adding a said Evensong in a few weeks, if that is manageable). The podcasts will continue as long as we need them, since there will be many people who will not be able to join us for a while (and should not do so). Worship in church may feel very different to the way it normally does, so please be prepared for some restrictions if you do come – you may prefer to continue to worship at home, and I would encourage you to do so if you are at all uneasy about coming to church, or feel it would not be sensible for you to do so.
And finally...
There are many things to think about in planning to reopen the church for public worship, not least, how to spread people out. Some churches are roping off entire pews. I sense that the church below anticipates that there might be challenges in persuading people not to sit in their usual seats. They have come up with every argument they can think of to put people off even thinking about it!

Copyright © 2020 St Peter and St Paul, Seal, All rights reserved.