October 4th Harvest

Online

Morning Worship Morning service sheet Hymn words (both services)
Evensong Evensong service sheet


In Church
Please note – face coverings must be worn in church unless you are medically exempt.
10 am Holy Communion for Harvest
4pm Story Church - same format as Outdoor Church, but inside!
6.30pm Evensong

Wednesday 9.15 am Morning Prayer
Friday 10.30 am Friday Group on Zoom and in person- ask for details

Sunday Oct 11
10 am Holy Communion
4pm Story Church
6.30pm Evensong


On Zoom this week email sealpandp@gmail.com for links

Zoffee – Zoom chat at 11.15 am every Sunday
This Sunday's link

https://us02web.zoom.us/j/86374728615?pwd=Tm9zOWkrNkdqK1FXdXhpRU1kNnZEdz09

Meeting ID: 863 7472 8615
Passcode: 580711

You can also join the meeting from a landline or mobile by phoning
203 051 2874 United Kingdom and entering the meeting ID and passcode above when prompted.

Wednesday Zoom Church 11 am. An informal service including Bible reading, prayer and a short talk.

Zoom Children's Choir Wednesday 5pm

Zoom Adult choir Wednesday 7.15 pm contact philiplebas@gmail.com for the link.

Harvest

At Seal Church we always celebrate Harvest Festival on the first Sunday in October. Coronavirus or no Coronavirus, day follows night, the world turns and summer gives way to autumn, with its "mellow fruitfulness", so, despite the restrictions we are all living with at the moment, this Sunday we are thanking God for the harvest – the harvest of the land and the sea, and the harvest of our lives too, all that we have nurtured and grown this year. That may include fruit and vegetables.
I've had a fine crop of tomatoes this year, and courgettes aplenty, and Kevin sent me a splendid photo of his aubergines, which I've never had any success with. Kevin obviously has the magic touch, because he's got at least a dozen in his greenhouse.

We can't celebrate the fruitfulness of the earth without being aware that both in this country and many others around the world, there are people who may feel they have little to celebrate, and who face a hungry autumn and winter ahead. That's why, alongside the thanksgiving, harvest brings with it a focus on those who don't get a fair share of the earth's resources.

As usual this year, we are supporting Rochester Diocese's Poverty and Hope appeal, which gives money various projects around the world and here in Kent. The people working in the projects it supports have abundant ingenuity, dedication and hard work, and can put even our small contribution to very good use in their communities.
At the end of this Sunday's sermon, we'll be hearing a message from James Langstaff, Bishop of Rochester, about some of these projects, but you can read more here. https://www.rochester.anglican.org/diocese/poverty-and-hope/

The projects being supported are:
SRI LANKA:advocacy, intervention and rehabilitation for children who have been traumatised through experiences of exploitation and abuse. Support began in 2018, and the project builds on our diocese's three year programme to help the Church of England's work to support victims of modern slavery and exploitation.

SYRIA: providing education, training and support for young people whose lives have been affected by the conflict in Syria. Supported since 2019.

KENT: exploring with young people global crisis issues linked with poverty, injustice and climate change, working through Commonwork at Bore Place, an educational charity. Commonwork also works with young people with disabilities and learning difficulties to develop their skills and confidence, and with schools in high deprivation areas to tackle the rise in obesity. Receives long-term support.

ZIMBABWE: tackling HIV/ Aids stigma across four dioceses in Zimbabwe, including our companion diocese of Harare. Supported since 2018.

BURUNDI: providing horticultural training for marginalised groups in Burundi. Supported since 2019.
The project in Syria will receive matching funds from the EU which means that for every £1 you give, the project will receive £10. This matched funding will continue for the duration of our support for the project, notwithstanding the continuing uncertainties surrounding the UK's withdrawal from the EU.


All Age resources
Come along and join us at our Story Church at 4pm on Sunday in the church for a story and prayers for all ages. Facemasks mandatory except for under 11s and those who are medically exempt. What story will we hear this week…?
Today is the feast of St Francis of Assisi, a saint famous for his love of the natural world. Spend some time outside if you can today and find as many things as you can to say thank you to God for?
Would you like us to pray for you?

Email your prayer requests to:
Your email will be read by Anne Le Bas and Kevin Bright, the Vicar and Reader of Seal Church who will hold you in their prayers.

The first name of the person you ask us to pray for, but no other details, will be included in public prayer lists circulated to other members of the congregation and may be mentioned in the public prayers of the church for about a month, unless you tell us you would rather we didn't pass on their name.
HYMN OF THE WEEK
We plough the fields and scatter


Harvest Festival in its current form as a church celebration, only dates back to 1843, when Revd Robert Hawker invited parishioners to come to his church in Morwenstow, Cornwall, for a special service to mark the end of the harvest. People had always celebrated the harvest in secular ways, often quite riotously, but it had not been celebrated in church. Harvest Festival soon became popular, even though it still has no official liturgical standing or set date.

"We plough the fields" , despite feeling so thoroughly English, is actually a translation of a German hymn, "Wir pflugen un wir streun/ Den Samen auf das Land" and was written by Mattias Claudius (1740-1815), the son of Lutheran pastor in Reinfeld, near Lübeck. He wrote the hymn as part of a play in 1783 about a harvest thanksgiving. It originally had 17 four line verses, but (thankfully!) was soon shortened. It was translated into English in 1861 by Jane Montgomery Campbell (1817-78), who translated many German hymns. She lived in Bovey Tracey in Devon, and died in a carriage accident while driving across Dartmoor.
The tune is by J. A.P Schultz, and is also German, first appearing with the German original version of the hymn in 1800. Schultz was Kapellmeister to Prince Henry of Prussia.




We plough the fields, and scatter
the good seed on the land;
But it is fed and watered by God's almighty hand:
He sends the snow in winter,
the warmth to swell the grain,
The breezes and the sunshine,
and soft refreshing rain.

Chorus: All good gifts around us
Are sent from heaven above,
Then thank the Lord, O thank the Lord
For all His love.

He only is the maker of all things near and far;
He paints the wayside flower,
He lights the evening star;
The winds and waves obey Him,
by Him the birds are fed;
Much more to us, His children,
He gives our daily bread.

We thank Thee, then, O Father,
for all things bright and good,
The seed time and the harvest,
our life, our health, and food;
Accept the gifts we offer,
for all Thy love imparts,
But what Thou most desirest,
our humble, thankful hearts.
Prayer of the week
Psalm 8

This glorious Psalm from the Bible is perfect for harvest time. I always imagine it as the work of someone who regularly sat and looked out at the night sky – a shepherd, perhaps, someone who "considered the heavens" not in theory, but in practice, gazing up at the stars. There's nothing quite like looking at the night sky to give us a sense of our own littleness in the grand perspective of the universe. We are specks of dust on a speck of dust, circling a not very spectacular star, compared to many, in one galaxy among millions. And yet, our lives have significance. We love, we laugh, we cry, we ponder that same vast universe and try to to make sense of it.
The writer of the Psalm may have lived 2500 years ago, but we can still identify with the feelings they express.
Some people question today the wisdom of the statement that human beings were "given dominion" over creation, a common assumption for our ancestors. It's an idea which has led people to think they can do whatever they like with the natural world. But there is truth in this observation. Human beings really do have the power to change the planet, for better or worse. We are all becoming more aware of the dangers that brings as the climate crisis takes hold, and we see the effects of pollution and over-consumption. We really do, in a sense, have dominion, but the message of the Bible is that it should be exercised under the authority of the one who had dominion over us, remembering that we are also creatures, God's creation, and dependent on the earth of which we are a part.


PSALM 8
O Lord our governor,
how glorious is your name in all the world!

Your majesty above the heavens is praised
out of the mouths of babes at the breast.

You have founded a stronghold against your foes,
that you might still the enemy and the avenger.

When I consider your heavens, the work of your fingers,
the moon and the stars that you have ordained,

What are mortals, that you should be mindful of them;
mere human beings, that you should seek them out?

You have made them little lower than the angels
and crown them with glory and honour.

You have given them dominion over the works of your hands
and put all things under their feet,

All sheep and oxen,
even the wild beasts of the field,

The birds of the air, the fish of the sea
and whatsoever moves in the paths of the sea.

O Lord our governor,
how glorious is your name in all the world!

Vincent van Gogh's famous painting, Starry Night, was painted while he was a patient in a psychiatric asylum, and is thought to be the view from his window there. It has always reminded me of Psalm 8, with it's view of "the heavens, the work of God's fingers". It captures the grandeur and beauty of the night sky, which seems to have caught up the artist in the swirling movement of the sky.
CHURCH NEWS
Story Church
Outdoor Church, which has been running very successfully in the churchyard since mid-July, is now moving inside. The numbers so far are such that it will be possible for us to meet safely there for the winter, though people will have to wear facemasks (unless under 11 or medically exempt) The format will be the same as outside, with some opening and closing prayers, and a story told by me which we can ponder on together. It is very simple and informal, and open to everyone. Usually the story comes from the Bible, but I have a story from the life of St Francis lined up for this Sunday afternoon, since it is his feast day.

Meeting Jesus

Join me on Zoom from Oct 12 to Nov 16 on Monday mornings at 11 am or Monday evenings at 7.30pm for a six-session Bible discussion group called Meeting Jesus. We will be looking at people who met Jesus and what that encounter meant to them. These sessions are part of a two-part course I am planning, called Starting Points, which will eventually be available for people to download and use at their own pace, on their own or with friends, with various online and printed resources to help them, but I would like to start by trying it out the material with a group, so if you would like to join me, please email to let me know.

You don't need any special knowledge to join in - we all learn from each other, and everyone's views are important – so it is very suitable for those who feel they are new to Christian faith, but also for "older hands", those who've been part of Lent groups, Home Groups or the Good Book Club, for example. There will be some input from me, some discussion in breakout rooms and some discussion together in a very informal way finishing with an act of prayer.
Please email
sealpandp@gmail.com
as soon as possible, letting me know whether you would like to join the morning or evening group (though some swapping around will probably be possible.

APCM
Our Annual Parochial Church Meeting will take place on Sunday October 18th at 11.15 am. The meeting will have to be by Zoom, since we will not be able to accommodate all who may want to come, and the APCM is supposed to be open to any on the Electoral Roll. It is possible to phone into Zoom meetings, so this is a legal alternative to meeting face to face. I will send out the Zoom link in next week's newsletter along with links to the Annual Report and Financial Statements.

PLANS FOR AUTUMN AND WINTER SERVICES AND EVENTS
Covid-19 has meant rethinking many of the services and events that we usually do in the coming season because of limits on numbers gathering, social distancing and the fact that congregations aren't allowed to sing. We are having to think laterally and adapt, as everyone is at the moment. We are formulating plans, however, to mark All Souls, Remembrance, Advent and Christmas, with services and events both online and offline in different ways, which we hope will bring these important times alive for us in new ways! More details coming soon.
More news from Seal School Farm
The chickens now have names…
The school asked each year group to come up with a name…
I have learned from bitter experience that asking children to name things can be a mistake…
Oola, Primrose and Cheep Cheep Junior are reasonable enough, but this one's now named Father Christmas (at least she's not a turkey!)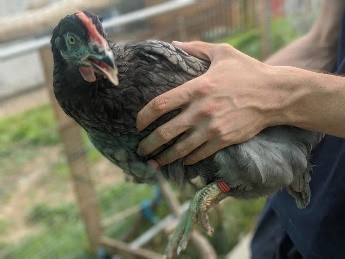 And as for these two…

KFC and Nando…?


Really?

No wonder they look like they are trying to get away