October 11th Harvest

Online

You can listen to our podcasts here, which include hymns
Morning Worship podcast Morning service sheet Hymn words (both services)
Evensong podcast Evensong service sheet
Or you can watch a video of the first part of the service here.
In Church
Please note – face coverings must be worn in church unless you are medically exempt.
10 am Holy Communion
4pm Story Church - same format as Outdoor Church, but inside!
6.30pm Evensong

Wednesday 9.15 am Morning Prayer
Friday 10.30 am Friday Group on Zoom and in person- ask for details

Sunday Oct 18
10 am Holy Communion
11.15 am Annual meeting on Zoom
4pm Story Church
6.30pm Evensong


On Zoom this week email sealpandp@gmail.com for links

Zoffee – Zoom chat at 11.15 am (Please note - Zoffee next week - Oct 18 - will be replaced by our Annual Parochial Church Meeting)

Wednesday Zoom Church 11 am. An informal service including Bible reading, prayer and a short talk.

Zoom Children's Choir Wednesday 5pm

Zoom Adult choir Wednesday 7.15 pm contact philiplebas@gmail.com for the link.


The picture above is a busy scene depicting today's Gospel story, the Parable of the Wedding Banquet, painted by an anonymous artist known as the Brunswick Monogramist, who painted in the Netherlands in the mid- to late- sixteenth Century. It's possible the painter may have been Mayken Verhulst, one of the few female painters whose names have come down to us from this period.

It's a lively depiction of a rather grand banquet, but one which is populated with very ordinary people, like the mother with her children in the centre, and the man behind her with his wooden leg, people who would never normally have been invited to an occasion like this. The story tells that the guests who had initially been invited refused to come, so the king, whose son's wedding feast this was, invited anyone and everyone, pulling people in off the streets to join the party. It's a story with a sting in its tale though, as one man was found without a wedding garment (indeed in this picture we can see him in the bottom left hand corner, wearing nothing on at all , which would have caused a stir!). The king ordered him to be thrown out, which is what is happening. It's a detail which often disturbs modern readers. Does God judge us by what we wear? What if he didn't have, and couldn't afford a wedding garment? There may be a straightforward explanation. It wasn't unknown for rich hosts to provide clothes for their guests to wear, just as people sometimes did at English funeral. Even if this isn't so, though, the fact that this detail isn't explained tells us it wouldn't have been an issue for those who first heard the parable. They would have got the point. This man was happy to eat the food and drink the wine, but he wasn't really entering into the spirit of the occasion, celebrating the new era which this wedding banquet ushered in. He wasn't really prepared to be part of the king's vision for the future. In today's sermon I explore what that might mean for us.


All Age resources
Come along and join us at our Story Church at 4pm on Sunday in the church for a story and prayers for all ages. Facemasks mandatory except for under 11s and those who are medically exempt. What story will we hear this week…?
The Gospel story today is about a royal wedding party. The king invited important, rich guests, but they didn't turn up, so he decided to invite ordinary people who would never normally go to a party like that.
Talk about parties you have been to. What makes them good?
What do you think it would be like to be invited to a Royal wedding? You could make some pretend invitations for one.
Would you like us to pray for you?

Email your prayer requests to:
Your email will be read by Anne Le Bas and Kevin Bright, the Vicar and Reader of Seal Church who will hold you in their prayers.

The first name of the person you ask us to pray for, but no other details, will be included in public prayer lists circulated to other members of the congregation and may be mentioned in the public prayers of the church for about a month, unless you tell us you would rather we didn't pass on their name.
THE INDEPENDENT INQUIRY INTO CHILD SEXUAL ABUSE

This week saw the release of the latest report from the Independent Inquiring into Child Sexual Abuse, which focussed on abuse in the Church of England, both recent and non-recent. I refer to it in today's sermon. The report made painful reading, and Rochester Diocese made the following statement in response to it.

"On Tuesday 6 October, the Independent Inquiry into Child Sexual Abuse published its report into the Anglican Church.
It found that the Church of England failed to protect children and young people from sexual predators within its ranks.
The report is based on public hearings held during July 2019, which examined the response of the Church of England and Church in Wales to allegations of child sexual abuse, as well as the adequacy of current safeguarding policies and practices.

Responding to the publishing of the report, the Rt Rev James Langstaff, the Bishop of Rochester said:
"Today, as the entire Church of England receives this report from the Independent Inquiry into Child Sexual Abuse, we first pay tribute to all the victims and survivors of church-context abuse whose brave testimony has allowed this report to come into being.
"Testimony which has been given at huge personal, emotional and spiritual cost. For this we must be both grateful for their courage, and ashamed of the abuse and re-abuse they have experienced.
"Myself and all within the Church must now take time to sit with this report, to listen to what it has to tell us, to learn, to repent and to act. This I will be encouraging across our parishes and among our senior leadership, as we pray for God to help us bring about the profound changes needed in the Church."

You can find this statement, along with links to the report and interviews with Bishop James and with the Ven Julie Conalty, Archdeacon of Tonbridge and the Diocesan Safeguarding Lead on the Diocesan Website here.
https://www.rochester.anglican.org/communications/news/time-to-quotlearn-to-repent-and-to-actquotsays-bishop-as-report-into-church-child-sexual-abuse-is-published.php

In Seal Church, we take safeguarding children and vulnerable adults very seriously, and take as much care as we can to ensure that all those working with children or vulnerable adults on behalf of the church have the right training and vetting and work in accordance with the Church of England's safeguarding policy. If you ever have any concerns about safeguarding – within or outside the church – you can talk either to the vicar or to the Parish Safeguarding Officer, Matt Bell
, 01732 764227
or you can contact the
Diocesan Safeguarding team
or a new helpline funded by the Churches but run independently by Victim Support, called
Safe Spaces
.
HYMN OF THE WEEK
Jerusalem the Golden

"Jerusalem the Golden" which features at the end of our podcasts this week, is a Victorian translation by John Mason Neale, 1818-1886, (about whose hymn Light's Abode, Celestial Salem I wrote back in August) of a section of a 12th century medieval Latin poem by Bernard of Cluny . Bernard's poem was a satire on the corruption of his age, De Contemptu Mundi , but included within it the passage Neale translated, a song of intense longing for the a world made right, the heavenly city, where all that was broken had been mended and all that was wrong put to rights.

It's soaring tune was composed by Alexander Ewing,(1830-95) and is named "Ewing" after him. If you Google his name you will probably discover a man of that name who was Scottish Episcopal Bishop of Argyll and the Isles and could be forgiven for assuming he was the composer. However, he was actually the cousin of the man who wrote this tune – evidently imagination was in short supply in the extended Ewing family! The Ewing who gave his name to this tune was a career soldier, who servied in the Crimea, China and Ireland, and was the Deputy Assistant Commissary in charge of a British Garrison in what was then the Dominion of Canada. On returning from Canada he served in the British Army Pay Corps. Although no other music of his seems to have survived, he is known to have taught music to Ethel Smyth, the daughter of a military colleague at Aldershot, who later went on to be a notable composer. She remembered Ewing, who taught her composition, as "a real musician" and "one of the most delightful, original, and whimsical personalities in the world". His tune certainly lifts the spirits, and fits the mood of the hymn, which encourages those with "heart and voice oppressed" to look forward to a better time. The last verse has been altered a number of times over the years, and St Martin in the Field's choir sing a slightly different version to the one below on our podcasts today, but I prefer the ending of this version, which reminds us that although we may feel dusty and ashy, we are also God's children. "Exult, O dust and ashes/ The Lord shall be thy part: His only , his forever/ Thou shalt be and thou art."

Jerusalem the golden,
with milk and honey blest,
beneath thy contemplation
sink heart and voice oppressed:
I know not, oh, I know not,
what joys await us there;
what radiancy of glory,
what bliss beyond compare!

They stand, those halls of Zion,
all jubilant with song,
and bright with many an angel,
and all the martyr throng:
the Prince is ever in them,
the daylight is serene;
the pastures of the blessèd
are decked in glorious sheen.

There is the throne of David;
and there, from care released,
the shout of them that triumph,
the song of them that feast;
and they who with their Leader
have conquered in the fight,
for ever and for ever
are clad in robes of white.

Oh, sweet and blessèd country,
Shall I ere see thy face?
Oh, sweet and blessèd country,
Shall I ere win thy grace?
Exult O dust and ashes
The Lord shall be thy part
His only, his for ever,
Thou shalt be, and thou art!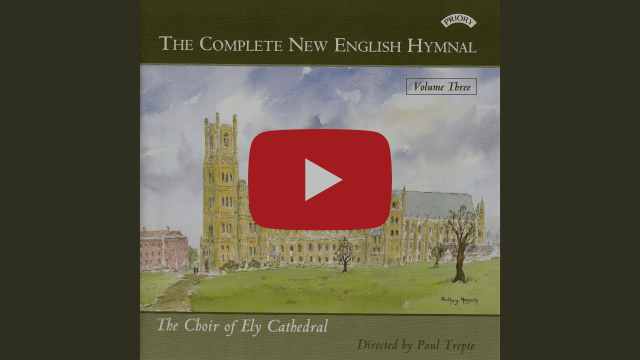 Prayer of the week
God our hope and our desire,
We wait for your coming
As a woman longs for the birth,
The exile for her home,
The lover for the touch of his beloved,
And the humble poor for justice.
Janet Morley: Christian Aid, from "Bread of Tomorrow"
Janet Morley's lovely prayer seemed to me to go with the hymn above it. It is a prayer of longing for "God, our hope and our desire" and for his kingdom to come "on earth as it is in heaven" as the Lord's Prayer says.
Have you ever longed for something intensely? Can you remember what it felt like?
What do you most long for now?
CHURCH NEWS
APCM – link to reports.
Our Annual Parochial Church Meeting will take place next Sunday at 11.15 online via Zoom, because we can't fit everyone who would be entitled to vote (those who are on the Electoral Roll) into the church under the social distancing rules.

Please email sealpandp@gmail.com if you would like the Zoom code.

If you aren't able to use the internet, you can also join the meeting by phone. If you would like to do this, you can contact me by phoning 07510 522292 before next Sunday and I will tell you how to do this. Obviously you won't be able to see others, and they won't be able to see you, as they would online, but you will be able to hear and be heard.

Here are the links to the Annual Reports and Financial Statements and I have also written an update, since the Annual Reports only concern the year to April 2020, and there has been a lot of water under the bridge since then!

Story Church
Last week's Story Church (the same format as Outdoor Church, but indoors!) was very successful, so do come and join us at 4pm in church for a Bible story and some informal prayers this Sunday afternoon. Facemasks are required unless you are medically exempt or under 11.

Meeting Jesus

Join me on Zoom on Monday mornings from October 12, at 11 am on Monday evenings at 7.30pm for a six-session Bible discussion group called Meeting Jesus. We will be looking at people who met Jesus and what that encounter meant to them. These sessions are part of a two-part course I am planning, called Starting Points, which will eventually be available for people to download and use at their own pace, on their own or with friends, with various online and printed resources to help them, but I would like to start by trying it out the material with a group, so if you would like to join me, please email to let me know.
You don't need any special knowledge to join in - we all learn from each other, and everyone's views are important – so it is very suitable for those who feel they are new to Christian faith, but also for "older hands", those who've been part of Lent groups, Home Groups or the Good Book Club, for example. There will be some input from me, some discussion in breakout rooms and some discussion together in a very informal way finishing with an act of prayer.
Please email sealpandp@gmail.com as soon as possible, letting me know whether you would like to join the morning or evening group (though some swapping around will probably be possible.
I will send out the link to the Zoom meetings on Sunday afternoon to those who have requested them.

We're still working on our plans for our Christmas services – as well as an online services, it looks like there will be simple, said, Communion services on Christmas Eve at 9pm (no midnight mass) and on Christmas Day at 10 am and 11 am, so we can make sure everyone who wants to come to worship in person can do so. Booking will be needed, as we've only got room for about 39 people at each service. I'll let you know how to book your place at these services in about a month's time, so no need to do it now! However, if seats are in short supply, I am hoping you won't feel tempted to resort to Dave Walker's ideas below…! If needed we will put on more services!