Dear friends
The links to our worship this week are below.
Best wishes
Revd Canon Anne Le Bas

SUNDAY WORSHIP online
Sunday worship podcasts
Morning Worship Morning service sheet Hymn words (both services)

Evensong Evensong service sheet


In Church
Please note – face coverings must be worn in church unless you are medically exempt.
10 am Holy Communion
4pm Outdoor Church in the churchyard
6.30pm Evensong

Wednesday 9.15 am Morning Prayer
Friday 10.30 am Friday Group on Seal Recreation Ground in groups of six, socially distanced.

Sunday Sept 6 in Seal Church
10 am Holy Communion
2.30pm Baptism
4pm Outdoor Church in the churchyard
6.30pm Evensong

On Zoom this week - email sealpandp@gmail.com for links
Zoffee – Zoom chat at 11.15 am

Wednesday Zoom Church 11 am
Simple, informal worship together on Zoom.

Zoom Children's Choirs: Wed 5pm and Thurs 4pm
Fun singing sessions for children

Wednesday at 7.15 pm Adult Choir on Zoom
Join us to sing some favourite hymns
email philiplebas@gmail.com for link


Trinity 12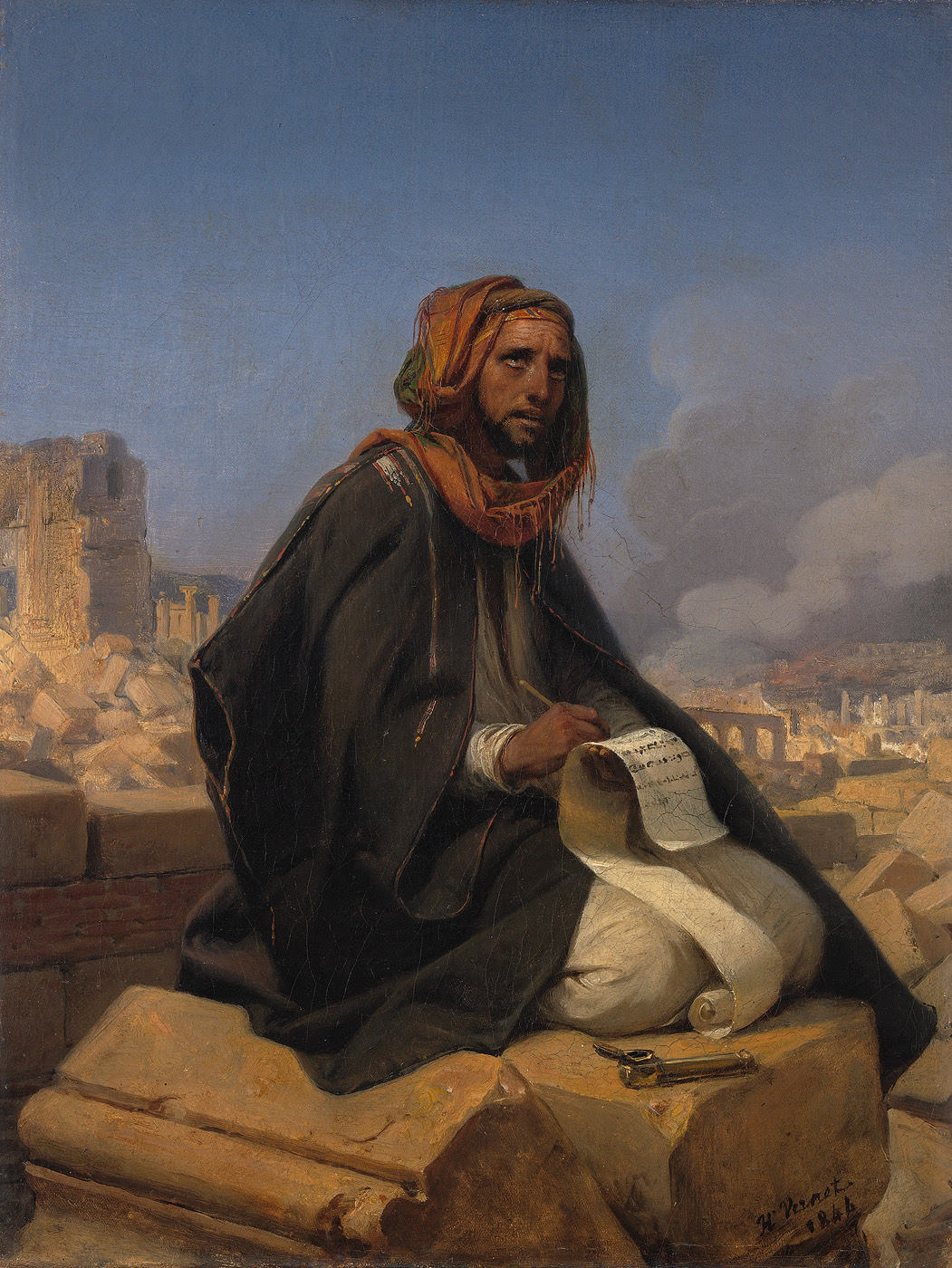 The Old Testament reading for today comes from the book of the prophet Jeremiah, a man whose name has become shorthand for someone who is moaning all the time. That's a bit unfair, because he had plenty to moan about. Not only did he live through the destruction of his home city of Jerusalem and the exile of many of its people to Babylon, he was the one called by God to try to warn and prepare its residents for the catastrophe. It was an apparently futile effort. No one wanted to listen and he was savagely persecuted for his efforts. In this picture, by the French painter Horace Vernet (1844), Jeremiah sits amidst the ruins of Jerusalem holding a scroll in his hands which he is writing on. It may be intended to represent his prophecies, or the book of Lamentations, which is also ascribed to him, but it could be the letter (Jeremiah 29) he wrote to those who had been taken into exile, which contained powerful words of encouragement. "Surely I know the plans I have for you, says the Lord, plans for your welfare and not for harm, to give you a future with hope".
Have you ever struggled to give or to hear bad news?
Have you ever found good things in bad times?

All Age resources

Come along and join us at our Outdoor Church at 4pm on Sunday in the churchyard for a story and prayers for all ages. No facemasks required! What story will we hear this week…?

Children's sheet from Roots on the Web
https://www.rootsontheweb.com/media/20748/30-aug-2020-childrens-sheet.pdf

Adult sheet from Roots on the Web
https://www.rootsontheweb.com/media/21139/liveyourfaith_108-lockdown-version_30-august.pdf


Prayer of the week
Prayer of the week - A Prayer of St Ignatius Loyola
Teach us, good Lord,
To serve thee as thou deservest;
To give and not to count the cost;
To fight and not to heed the wounds;
To toil and not for seek for rest;
To labour and not to ask for any reward
Save that of knowing that we do thy will.

(St Ignatius Loyola)


I share this prayer with some trepidation. It was one of two we had to learn by heart at my secondary school back in the 1970's (the other was the Lord's Prayer, of course) It was a girl's direct grant school with a long history of turning out young women with a sense of duty and seriousness of purpose as well as academic achievements. Our rather formidable headmistress was also a magistrate, and it sometimes showed – her disapproval was all the more searing because of the restraint with which she expressed it. You knew if you had let her down! The prayer is a stirring and inspiring one, but it can also be a bit dangerous. A wise nun to whom I used to go for spiritual advice told me she thought no one under 40 should be allowed to pray it. There are times when we need to keep going, "not heeding the wounds" not "seeking for rest", but to do so can be a recipe for burn out if we aren't also "refueling" spiritually, physically and emotionally.
The prayer's author, St Ignatius of Loyola (1491-1556) founded the Jesuits, a Catholic religious order founded to share and defend Christian faith, often in very difficult situations. A major emphasis of the order, through the "Spiritual Exercises", was on getting to know yourself as well as God, an important safeguard in an movement of such activist energy. Ignatius had been a soldier, who, following a bad injury at the battle of Pamplona, had discovered that the purpose he really sought in life couldn't be found by fighting, but only by serving God. This prayer reflects the swashbuckling soldier who still, perhaps, remained in his religious life.

What do you think of this prayer? Does it resonate with you?

HYMN OF THE WEEK
This hymn, sung here at a very sprightly pace by the Exultate Singers, was written by Love Maria Willis (1824-1908), an American Unitarian, though it is thought to have been considerably altered by Samuel Longfellow, the younger brother of Henry Wadsworth Longfellow (writer of Hiawatha). The other piece of trivia about Love Willis is that her husband, Frederick Willis, had grown up in the home of Louisa May Alcott (Little Women) and is thought to have been the model for Laurie in the novels. Trivia aside, this hymn has been an encouragement to many who have found themselves treading the "steep and rugged" pathways. Love Willis' own path through life wasn't easy. By the time she wrote this, she had lost a sibling and three of her four cousins, all of whom had grown up under the same roof and her father, who died in an accident when she was six. She and her family were ardent campaigners for the abolition of slavery, and this hymn, written originally as a poem in 1859, was composed just before the carnage of the American Civil war.
The hymn isn't just a call to courage, however. It reminds us that we don't have to rely on our own strength, but have a faithful guide and strength. In verse 3 Willis alludes to a story from the Old Testament book of Exodus. The Hebrew slaves, freed from Egypt, were wandering in the wilderness on their way to the Promised Land. They were in despair because there was no water and complained at Moses that he had brought them out into the desert to die. God told Moses to strike the rock with his staff, and water gushed out. (Exodus 17)

1 Father, hear the prayer we offer:
not for ease that prayer shall be,
but for strength that we may ever
live our lives courageously.

2 Not for ever in green pastures
do we ask our way to be;
but the steep and rugged pathway
may we tread rejoicingly.

3 Not for ever by still waters
would we idly rest and stay;
but would smite the living fountains
from the rocks along our way.

4 Be our strength in hours of weakness,
in our wanderings be our guide;
through endeavour, failure, danger,
Father, be thou at our side.

SCARECROW TRAIL
Barbara Martin and Janetta Critcher have put together a SCARECROW TRAIL around the village, and a quiz about the scarecrows whose makers have asked for them to be included. You can find it below. Why not have a stroll around and see how many you can find? If you have missed the deadline for the trail, but still want to make a scarecrow, please do – and send us a photo to share on the church's social media - I will be including as many photos as I can in this newsletter next week. There aren't any prizes this year – it is just a way of helping to cheer up the village as we approach autumn, and we need all the cheering up we can get!
Scarecrow Trail 2020
The questions are in no particular order, feel free to take any route around the village. Please be aware of traffic at all times and cross any roads safely. We have 11 scarecrows as of Thursday evening.
The Fantastic Mr Fox is having a cheeky rest at the bottom of Middle lane, how many brass buttons on his waistcoat. Who wrote Fantastic Mr Fox?
Peter Pan has come to rest on a fence in Park Lane. The profits from J M Barrie's book supports a London Hospital, which one? Peter also has a _ _ _ feather in his cap!
A Modern Day Shakespeare in Church Street, what is he holding in his left hand?
In the high street is Flo, our superhero nurse and what a job they've been doing for us. What colour are her tights?
Mary Poppins in Childsbridge Lane, near the Sheilings is P_ _ _ _ _ _ _ _ _ P_ _ _ _ _ _ _ in E_ _ _ _ W_ _.
St Peter and St Paul standing near the Lychgate in the churchyard each have a symbol, what are they?
Sam or is it Boris? Our smallest scarecrow doesn't like the rain, he's on a windowsill in Jubilee Rise! He has a mouse in his hat but what sort of mini beast is on his shoe?
A giant is standing over a town in Childsbridge Lane near the zebra crossing, but what time is it according to the church clock?
In Church Farm garden, next to the church the scarecrow is holding a placard what does it say?
Gangster Granny also in the High Street is wearing her jewels, what colours are they?
A witch sits outside Coldbreaths the butchers in the High Street, her dress is decorated with a ……..
GREAT LITTLE GARDEN GATHERINGS
During the summer, the Church is fund raising to help plug the financial gaps caused by this pandemic. We are looking for people to host small (maximum 6 people) garden tea/lunch/supper parties, with donations being made to the church. If you feel you could host such an event, please contact Rosemary on 01959 524914 or Chris on 01732 763585.You could also contact us by emailing sealchurchevents@gmail.com. A pack containing invitations, guidelines and a risk assessment is ready for your use. There have been several Gatherings so far – many thanks to those who have hosted them – and they seemed to go smoothly and safely, so do join in.
Quite a few of the pieces I have shared in this slot have been evidence of people with Too Much Time on their Hands. This piece brings that close to home. My best beloved husband has been slaving away making an arrangement of the Pearl Fishers' Duet as you have almost certainly never heard it before, for two bassoons (what else?) and a computer-generated orchestra. It kept him out of mischief for quite a while!

Shared with permission of both soloists, Philip Le Bas and, er, Philip Le Bas…