SUNDAY WORSHIP online
Sunday worship podcasts
Morning Worship Morning service sheet Hymn words (both services)

Evensong Evensong service sheet

In Church
Please note – you must wear a face covering in church unless you are exempt.

10 am Holy Communion in church
4pm Outdoor Church in the churchyard
6.30pm Evensong in church

Wednesday 9.15 am Morning Prayer
Friday 10.30 am Friday Group on Seal Recreation Ground in groups of six, socially distanced.

Sunday Aug 30 in Seal Church
10 am Holy Communion in church
4pm Outdoor Church
6.30pm Evensong

On Zoom this week
Zoffee – Zoom chat at 11.15am on Sunday morning

Wednesday Zoom Church 11 am

Zoom Children's Choirs: Wed 5pm and Thurs 4pm
email sealpandp@gmail.com for links

Wednesday at 7.15 pm Adult Choir on Zoom
email philiplebas@gmail.com for link


Trinity 11


The theme which connects today's readings is Rock, often a symbol in the Bible for all that is trustworthy and solid. God is described as a Rock in the Old Testament (Deut 32.4, 1 Samuel 2.2, Psalm 18.2) and in the New Testament, the same imagery is used of Jesus, (1 Corinthians 10.4). Stone was, and still is, an important building material in Israel; it is a stony, rocky landscape, its hills peppered with caves, natural or made by humans. The most impressive stone building that most people at the time of Jesus would have known was the Temple – Its stones represented the permanence of God's commitment to his people, and when the Temple was destroyed, first by the Babylonians in 586 BC and then by the Romans in 70AD. Its destruction provoked massive spiritual and political crises on both occasions, and the only accessible remaining section of wall is still a place of prayer and longing for the Jewish people, who welcome those of other faiths to pray alongside them there, as Philip and I discovered last year. The early Christians, though, saw Jesus as the Cornerstone of a new Temple, built with Living Stones, his followers. In Christ, and in the community that met in his name, God could be encountered even if the old place of encounter, that beautiful Temple in Jerusalem, was ruined.

Human beings have always been attracted to stones, though, imbuing them with significance. I have often laid my hands on the stone pillars in the South Aisle of Seal Church, and wondered about the masons who cut them back in the 13th century, the pilgrims who carved crosses into them and all those worshippers who have touched them since. It is no wonder that the sheer longevity of stone reminds people of the faithfulness of God!

Are there stones which are special to you? An old house? An historic monument? A natural stone feature? What is it about them which draws you to them?

All Age resources
Prayer of the week
Prayer of the week

Lord, you have made us for yourself, and our hearts are restless until they find their rest in you.
St Augustine of Hippo. (354 –430) Confessions Book 1
St Augustine's words, near the opening of his account of his life and his coming to God, have become famous – look out for them in a few weeks, embedded in the collect for Trinity 17.
They summed up his story. He had looked in many different places for the sense of peace and purpose he sought in life. He tried wine, women and song – he had a son called Adeodatus by an unnamed woman with whom he lived for fifteen years, before abandoning her. He tried various philosophies on offer in the late Roman Empire, but in the end he found what he was looking for in Christian faith, and became one of the most influential figures in the theological development of Christianity. His ideas profoundly shaped the thinking of later figures like Martin Luther, but Augustine probably also transmitted a lot of his own neurotic baggage, especially about sex, into Christian faith, and the thoughts of that abandoned mistress would be fascinating to hear!
Augustine was born in what is now Algeria, and was educated in Carthage, a major centre of civilisation and learning on what is now the Tunisian coast. He was ethnically a member of the North African Berber people, but as North Africa was ruled by Rome, his education was steeped in the ideas of Rome and Latin was probably his first language. He later became Bishop of Hippo, in modern day Algeria (the name comes from a Carthaginian word for Harbour, and has nothing to do with the Hippopotamus!) He died during a siege of the city by the Vandal invaders from Germany. It was a time when the Roman Empire was being attacked on many fronts, and when it felt as if the Roman civilisation and way of life which had endured for almost 1000 years was crumbling fast.
Despite all this, Augustine felt that he had a sure hope in God – one of his most famous books was called "The City of God". No human city could last forever, but the City of God was eternal.
HYMN OF THE WEEK
Tell out my soul
Tell out, my soul, the greatness of the Lord!
Unnumbered blessings give my spirit voice;
Tender to me the promise of his word;
In God my Saviour shall my heart rejoice.

Tell out, my soul, the greatness of his name!
Make known his might, the deeds his arm has done;
His mercy sure, from age to age the same;
His holy name, the Lord, the mighty One.

Tell out, my soul, the greatness of his might!
Powers and dominions lay their glory by;
Proud hearts and stubborn wills are put to flight,
The hungry fed, the humble lifted high.

Tell out, my soul, the glories of his word!
Firm is his promise, and his mercy sure.
Tell out, my soul, the greatness of the Lord
To children's children and forever more!

This very popular modern hymn was written in 1962 by Timothy Dudley-Smith, who has lots of local connections here, having been educated at Tonbridge School and ordained by Bishop Chavasse of Rochester.

Dudley-Smith went on to become Bishop of Thetford, in the Diocese of Norwich, but is best known as a prolific hymn writer, who has written over 400 hymns including, from our hymn books "Faithful vigil ended", "Fill your hearts with joy and gladness" - set to Beethoven's Ode to Joy and "Lord for the years". His hymns have a great ability to express Christian truths in language which is modern enough for people to understand without being trite, a good indication that they will stand the test of time.

"Tell out my soul" is a paraphrase of the Magnificat, Mary's song of praise from Luke 1, spoken while she was expecting Jesus. Despite, or perhaps because of, the scandal and uncertainty that surrounded her pregnancy, she saw God in it, at work to bring justice and hope to those who had none.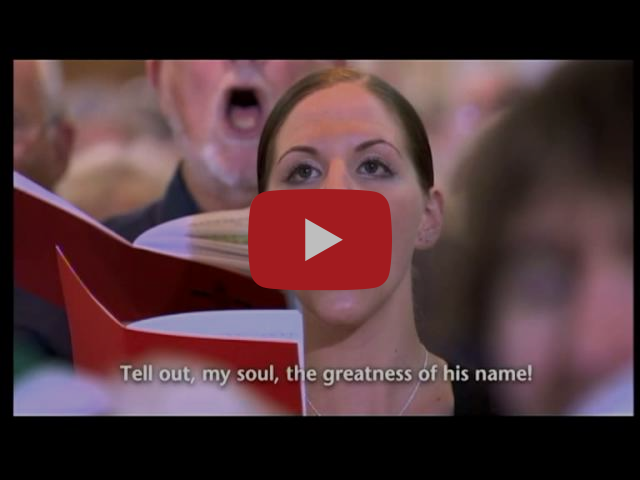 SCARECROWS

There is still time to make your Scarecrow, if you want it to be included in the Scarecrow Trail for the Bank Holiday Weekend . Please contact Janetta on 01732 762729 or Barbara on 01732 762255. It has been agreed to have no prizes awarded this year, as there are always amazing entries, and everybody deserves a huge THANK YOU for making the effort to contribute to the festival. We will be holding a lockdown exhibition, hopefully later in the year, so please take a selfie of yourself/selves, with your scarecrow and also send to either Barbara or Janetta or email to sealchurchevents@gmail.com If you have nowhere to display your scarecrow, or you feel you are too far out of the village, please ask the local shops and businesses if they would like one outside their premises. They often like to join in, but don't have the time to make their own!
GREAT LITTLE GARDEN GATHERINGS
During the summer, the Church is fund raising to help plug the financial gaps caused by this pandemic. We are looking for people to host small (maximum 6 people) garden tea/lunch/supper parties, with donations being made to the church. If you feel you could host such an event, please contact Rosemary on 01959 524914 or Chris on 01732 763585.You could also contact us by emailing
sealchurchevents@gmail.com
. A pack containing invitations, guidelines and a risk assessment is ready for your use. There have been several Gatherings so far – many thanks to those who have hosted them – and they seemed to go smoothly and safely, so do join in.
The rest of us really don't have a hope of competing with the online worship which has been coming from the Dean of Canterbury's garden. You may remember a clip I shared a while ago of his cat getting in on the scene, but last week he upped the stakes considerably, by leading Morning Prayer from the Deanery pigpen, where Clemmie the pig had just given birth to a litter of piglets. What I love is the way he doesn't turn a hair, no matter what is happening around him, but, mind you, neither does Clemmie. The Church of England at its batty best!
mi n